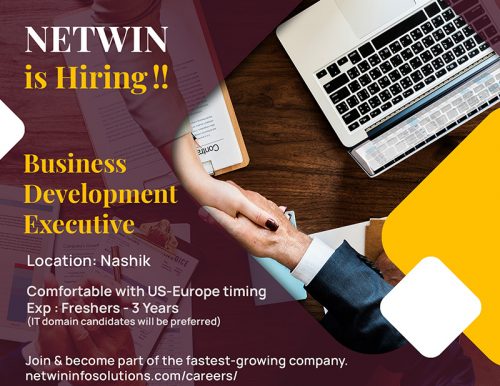 Experience:
Fresher urge to learn in Sales in IT services to the customer with a bent of mind, Attitude for Marketing & Excellent English Communication Skills.
Qualifications :
BE/BBA/BCA/BSC/BCS/MCS/MCA/MCS/MBA required from an accredited institution.
Shift:
USA region – Night Shift – 5 pm Onwards – Male preferable
Nature of work:
Inside Sales for Software Product Development Service to prospective clients in USA, Europe, Australia, South Africa and other countries.
Selling should be your signature statement. Maintaining relationship with clients and providing business leads, client interaction, team building, follow up with clients.
The key areas of responsibility for BDE include:
A Business Development Executive Follow up with clients/customers. Updating records, interacting with Customers, Seeking New Client/customer.
The work will cover areas such as selling ideas, services and products.
General Skills:
BDE will be required to identify potential clients, manage existing account/customer relationships. Generating the leads & qualifying the accounts based on the Sales strategies.
Understanding the requirements of the clients & positioning an appropriate solution.
Resolve/Coordinate customer complaints effectively
Ability to handle corporate presentations, documents, proposals, and managing the expectations of the customers with development team to create solutions.
Extensive negotiation experience.
Driving the Sales revenues & achieving them.
Exceptional interpersonal skills and ability to develop strong working relationships.
Welcome customers and take ownership for their needs.
Use the sales process and deliver excellent service.
Work as part of a team and contribute to their success and minimize risk by following procedures.
Knowledge:
Understand the products, skills and expertise of the company.
Understand the services that the company provides in design and development of software.
Understand the requirements of the customer and map it to the available products of the organization or to the expertise and skills within the organization.
Understand the different segments within the field and match customer requirements with the suite of products.
Competencies Required:
A strategic thinker who is able to develop and refine strategy for successful implementation of each new Business line.
Market intelligence activities for the sector identify clients and needs.
Desirable skills:
Although this occupation is open to all Bachelor Degrees with 2 year plus experience. A postgraduate qualification in Business/Marketing management, while not essential, could be useful.
Should be a leader who will inspire and be willing to meet different and new people.
Enthusiasm for working in a quickly changing, fast-growth environment
Having marketed products similar to that of the company's products or services including hardware and software.
Having worked within the financial domain would be an added advantage.
Time Management Skills.
Creative, resourceful, detail-oriented, highly organized